The Department of Neurosurgery, ASTER CMI Hospital
Invites application for
Fellowship in Spine Surgery
(RGUHS accredited)
– A comprehensive certified training program in the complete range
ofspine surgery
– Latest in Minimally Invasive techniques, state of the art technology
Duration -18 months
Eligibility Criteria – Neurosurgery (MCh/DNB)
or Orthopaedics (MS/DNB)
Seats – 2
Interview date – to be decided shortly
Course commencement – 1st September 2021
Submit Application & CV online
Last date for submission – 15th August 2021
Contact: Department – 9731616061
Shyamala – Academic Co-ordinator – 7625039893
academics.blr(a)asterhospital.com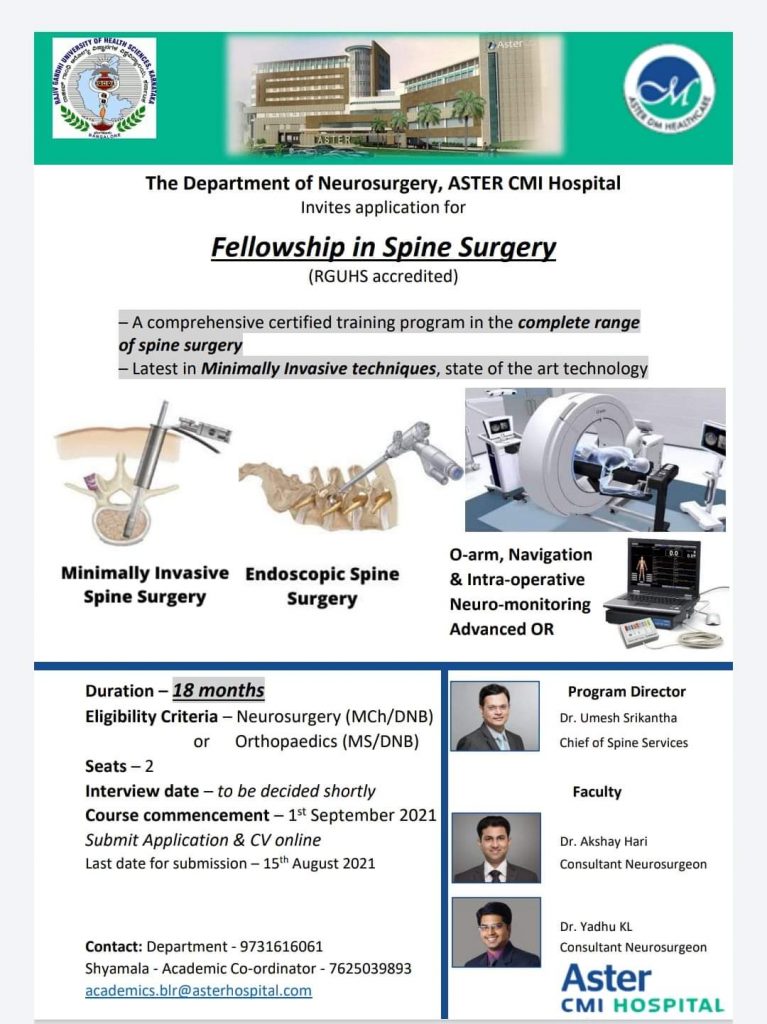 NEET-SS FET DNB MD MS Solved Past Theory Question Papers and solved question bank.
Solved MCQs question bank and latest recalls
Mentorexam.com is the one-stop destination for all your medical exam preparation needs. Choose from the various courses for NEET-SS FNB DNB MD Exams tailored by our expert team of mentors.
Video lectures
Live test
Latest exam recalls
Largest Solved Question Banks
Content created by Experts
Great User Interface
Exam Simulation for NEET-SS
Our courses are all you need to crack your exams and achieve your dreams. Start Now!
New DNB March 2021Solved Question Answers!- On Discount HURRY!!!
For All Courses – https://shop.mentorexam.com/
For Queries –https://wa.me/919087747888
Register for exam updates free notes and videos – https://shop.mentorexam.com/signup
Exam updates and learning on Telegram https://t.me/mentorexamships
For all DNB exam study material solved question banks and osces – https://www.mentorexam.com/s/store/courses/DNB%20MS%20MD%20Final%20Exam%20Courses
For all FET FNB Exam study material , solved recall mcqs and mocks– https://www.mentorexam.com/s/store/courses/NEET-SS%20FNB%20Mch%20DM%20Courses
For all courses – https://www.mentorexam.com/s/store
Download Mentorexam App for android/iOS and register for free!
Android App- https://play.google.com/store/apps/details?id=com.mentorexam.courses&hl=en_IN&gl=US
iOS – https://apps.apple.com/us/app/mentor-exam/id1572870557
Follow us on FB and join our groups for free discussions – https://www.facebook.com/Mentorexam
For queries – https://wa.me/917200420117
For free updates register –https://shop.mentorexam.com/signup