DNB MS Ophthalmology OSCE course
Master DNB MS Ophthalmology OSCEs with Top Experts! Guided by Dr. Abhishek Paul and Dr. Bijita Deb, our DNB MS Ophthalmology OSCE Course covers everything from latest exam formats to essential topics. Featuring an expansive, regularly updated OSCE bank and practical insights, it's perfect for exam-going postgraduates. Accessible via Android/iOS apps, it's your best resource for convenient, effective learning. Ace your Ophthalmology practicals with confidence and ease!
Key to OSCE: DNB MS Ophthalmology OSCE Course

Ace Your Ophthalmology Practicals on the First Try with Expert Guidance!

Welcome to the DNB MS Ophthalmology OSCE Course, expertly crafted under the mentorship of Dr. Abhishek Paul and Dr. Bijita Deb. This program is more than a study tool; it's your strategic ally in navigating the DNB Ophthalmology OSCE exams with ease and confidence.

Course Mentors:

Dr. Abhishek Paul
Dr. Bijita Deb

Course Highlights:

Recall-Focused Learning: Engage with a diverse selection of recalls for an authentic feel of the actual exam scenarios.
Comprehensive OSCE Question Bank: Access a constantly updated collection of solved OSCEs specific to Ophthalmology, the largest of its kind.
Versatile Study Modes: Tailor your study approach, from last-minute revisions to in-depth concept understanding.
Regular Content Updates: Stay up-to-date with the latest patterns and questions in Ophthalmology exams.
Effective Preparation Strategy: Utilize our extensive OSCE bank for regular self-assessment, ensuring thorough preparedness.
Broad Topic Coverage: Explore a wide array of topics and OSCEs, with material designed for easy retention and exam reproduction.

Course Outline:

Get familiar with the latest DNB practical format.
Gain insights into the art of OSCE questions specific to DNB practical exams.
Master commonly encountered topics to excel in clinically relevant questions.
Learn from authentic answers derived from standard textbooks.
Enjoy the convenience of app-based content, accessible anytime, anywhere.
Ideal for postgraduate students gearing up for their exams.

Accessibility:

Available on Android App / iOS
Online course format (no hard copies provided)

Master Ophthalmology OSCEs with Ease!

Under the guidance of esteemed mentors and with a treasure trove of resources at your fingertips, the DNB MS Ophthalmology OSCE Course is your ticket to mastering the practical exams. Prepare smartly, revise efficiently, and approach your exams with the confidence of a seasoned professional!
Don't miss out, Join countless postgraduates who've achieve exam excellence with Mentorexam.It's time to study smarter, not harder.
👉 Secure Your Spot Now! Experience the ultimate preparation for pediatric exam prep. Pass Effortlessly with Mentorexam Grand Course
Get Started Now! 🔔 Limited Time Offer: Enroll today and benefit from our early-bird discount!
Ophthalmology Store
Show all

NEET-SS FET DHA

DNB MS
Choose category

All categories

Bestsellers

Pediatrics

Anaesthesia

Orthopaedics

Obstetrics gynecology NEET-SS DNB MS

Ophthalmology

Medicine Superspecialities

Surgery Superspecialities

DNB MS

FET NEET-SS FNB DHA

FET

Books

MRCS
Best seller

Buy now

Buy now
- 16%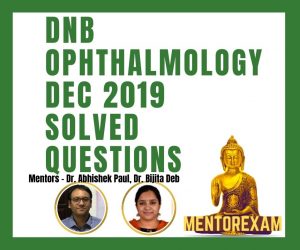 Buy now
Scholars also frequently bought the following together
58 reviews for
DNB MS Ophthalmology OSCE course