A decision has been taken by the Government of India in consultation with the National
Medical Commission (NMC) and the National Board of Examinations in Medical Sciences
(NBEMS) to the effect that the revised scheme for NEET-SS shall be given effect to only from
the academic year 2022-2023.
It has been further decided to hold the ensuing NEET – SS examinations for academic year
2021-2022 on 10th January 2022 on the basis of the pattern which held the field until academic
year 2020-2021.
The ongoing registration window for NEET-SS 2021 shall be put on hold till 31.10.2021 and
shall be resumed online at https://nbe.edu.in on 01.11.2021 (3PM onwards) to make the
necessary changes effective and the window shall continue till 22.11.2021 (11:55 PM).
In the forthcoming registration window, candidates who have already registered for NEET-SS
2021 shall be able to EDIT their choices for eligible super-specialty courses and those who
are yet to register shall be able to register AFRESH for NEET-SS 2021.
Candidates who have already registered and have paid examination fee of amount more than
Rs. 4250/- in case of applying for more than one groups, shall be refunded the EXTRA
examination fee paid. Those who are not willing to continue with the application registered in
the current window for NEET-SS 2021 in view of the above mentioned change can submit a
request for REFUND of examination fee to NBEMS.
The updated Information Bulletin shall be available on or before the resumption of registration
window on 01.11.2021 at NBEMS website www.natboard.edu.in and https://nbe.edu.in
For any query, please contact NBEMS at 011-45593000 or write to NBEMS at its
Communication Web Portal https://exam.natboard.edu.in/communication.php?page=main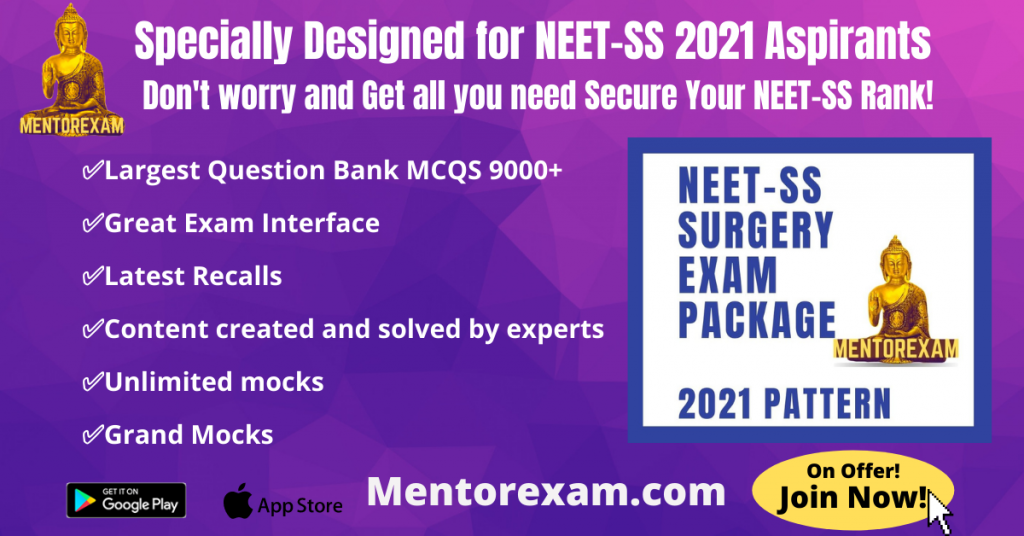 Exam updates and learning on Telegram https://t.me/mentorexamships
For all DNB exam study material solved question banks and osces – https://www.mentorexam.com/s/store/courses/DNB%20MS%20MD%20Final%20Exam%20Courses
For all FET FNB Exam study material , solved recall mcqs and mocks– https://www.mentorexam.com/s/store/courses/NEET-SS%20FNB%20Mch%20DM%20Courses
For all courses – https://www.mentorexam.com/s/store
Download Mentorexam App for android/iOS and register for free!
Android App- https://play.google.com/store/apps/details?id=com.mentorexam.courses&hl=en_IN&gl=US
iOS – https://apps.apple.com/us/app/mentor-exam/id1572870557
Follow us on FB and join our groups for free discussions – https://www.facebook.com/Mentorexam
For queries – https://wa.me/917200420117
For free updates register –https://shop.mentorexam.com/signup