Several short mini mock MCQ series with unlimited attempts
You may attempt these any number of times. It has been specially designed to give adequate practice with sufficient time.
Grand Mocks – timed with limited attempts to simulate exam. They are limited so as to give you the real feel of the exam.
Now also with Random mock generator tool
Creates randomized mocks any number of times
Now with Best selling Orthopaedics FET NEET-SS MCQS Book By Dr. Prashant (Android App / iOS)
Real exam interface simulation
Solved recall questions also added
High yield video on latest questions included.
Answers with explanation
Largest question bank with 2000+ NEET-SS FNB Pattern questions and counting
Covers Orthopaedics Superspecialities, spine arthroplasty, arthroscopy trauma, paediatrics, hand…
Access anytime anywhere online
Online Content, No Hard Copy.
Helpful to get high ranks FNB and NEET-SS exams DHA
Orthopaedics Store
Show all

NEET-SS FET DHA

DNB MS
Choose category

All categories

Anaesthesia

bestseller

Books

courses

DNB MS

FET

Medicine Superspecialities

MRCS

NEET-SS FNB DHA

Obstetrics gynecology NEET-SS DNB MS

Ophthalmology

Orthopaedics

Pediatrics

Surgery Superspecialities
Best seller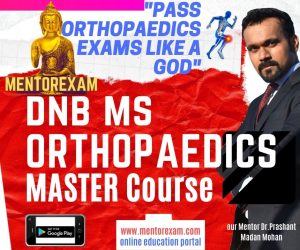 Best seller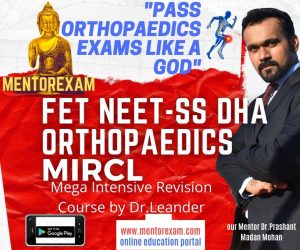 Best seller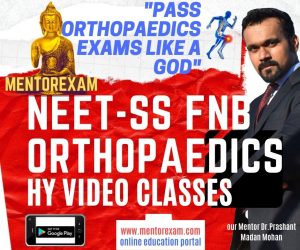 - 44%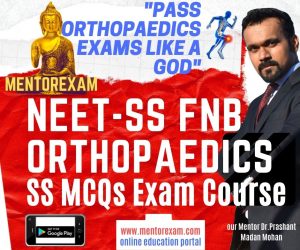 Scholars also frequently bought the following together
I am a former student of Dr prashant...the man who reformed me from nothing in orthopaedics to everything in orthopaedics...a great teacher, moderator....supporter...of lifetime He's a kind of person who always strives for the wellbeing of students academically and personally Not just he helped me with academics but taught a lot about life lessons......I'm glad to b a student of him..and ll b glad to work under him always....
Dr. Prashant Madan Mohan is an inspiring orthopaedic surgeon. The passion he has for his work and teaching is amazing. I did my internship in the unit under him. His positivity is infectious. He has given me the motivation I needed to take the next step toward my dream of becoming an orthopaedic surgeon. I am sure he will keep motivating and inspiring many students through his books.
Such an amazing teacher who puts behind a lot of efforts for guiding young orthopaedicians in different examinations. His previous books on passing Theory and practical examinations were such success for helping many to pass their Examinations. This book for NEET SS and FNB is the most comprehensive and yet concise compilation of orthopaedic mcqs for postgarduates. I would like to congratulate Dr Prashanth for creating such book. Best wishes sir.
During my residency days as a MS student, I trained extensively under Dr. Prashant. It is truly an inestimable experience to have worked under such a skilled clinician and an accomplished surgeon. Dr. Prashant has always taken an extremely keen interest in instilling knowledge amongst his juniors in a very selfless manner. He's helped a variety of aspiring undergraduate and postgraduate students to reach their goals. This has been made possible through his Teaching courses, academic study material and his various study groups on platforms such as WhatsApp, Telegram and Facebook. Thank you sir.