DNB MS Orthopaedics Solved Question Papers Course v23
DNB MS Orthopaedics Solved Question Papers Course DNB MS Orthopaedics theory exam course with DNB orthopaedics solved question papers
DNB MS Orthopaedics Theory Exam Course Package
Course Highlights: 
Validity – 365 days
Grand course content created by expert mentors and toppers.
2021 DNB Orthopaedics Theory Final nov high yield and new solved questions
2020 DNB Orthopaedics Theory Final december high yield and new solved questions with videos on topics and how to write in exam
December 2019 DNB Orthopaedics Theory Final papers solved papers
June 2019 DNB Orthopaedics Theory Final solved question papers
Mentorexam Orthopaedic Notes for all major topics – High yield, cover a lot in short span – pass easily
20 High yield lecture videos on important exam topics
Free bonus material Old Orthodnb solved question bank 
Easily master Orthopaedics high yield topics and pass the exams with minimal efforts.
Answers from various textbooks and Journals
Avoid the hassle of searching for answers to the various questions
DNB & MS Ortho friendly
Mnemonics as and when applicable
Memorise easily
Know what to write in the exam
Tips and tricks to clear the exam
Discount Offer – Join now
Helpful to pass DNB and MS Orthopaedics exams easily
Whatsapp discussion grp
no hard copies.
with bonus free content
Ideal for EXAM- GOING PGs preparing for exit examinations.
Arranged in a reader-friendly bulleted format, enriched with flowcharts and diagrams, that is easy to retain and reproduce in exams.
Access by Android App / iOS
*This course has solved questions, solved papers, high yield notes and topic wise notes and lecture videos.Latest topics and papers are being updated.
Disclaimer – Wherever possible recall questions and new questions have been solved. All question papers of all years and all questions from each paper are not available, hence can only be updated in future if learners send their recalls to mentorexam.com@gmail.com. This is an initiative to improve the pass percentage of DNB orthopaedics exams by Mentorexam.Mentorexam is not affiliated to DNB or NBE or NMC.These questions are representative of real exam and are not claimed to be from the real exam, any resemblance is coincidental and Mentorexam does not take any responsibility for any harm or loss.This is purely for educational purpose.
Orthopaedics Store
Show all

NEET-SS FET DHA

DNB MS
Choose category

All categories

Bestsellers

Pediatrics

Anaesthesia

Orthopaedics

Obstetrics gynecology NEET-SS DNB MS

Ophthalmology

Medicine Superspecialities

Surgery Superspecialities

DNB MS

FET NEET-SS FNB DHA

FET

Books

MRCS
Best seller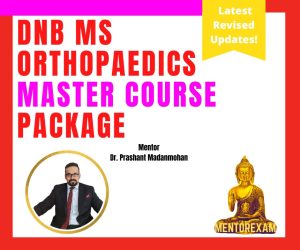 Buy now
Best seller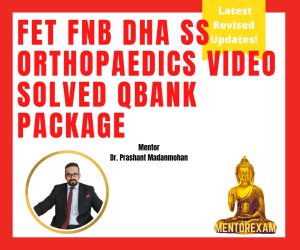 Buy now
Best seller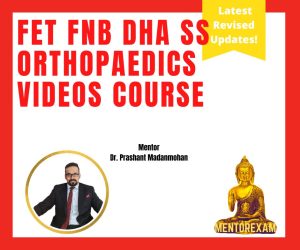 Buy now
- 38%

Buy now
Best seller

Buy now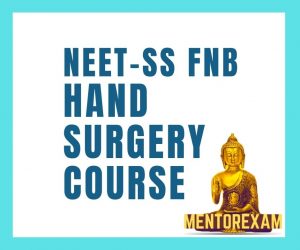 Buy now
- 16%

Buy now
Editor choice

Buy now
Scholars also frequently bought the following together
I am a former student of Dr prashant...the man who reformed me from nothing in orthopaedics to everything in orthopaedics...a great teacher, moderator....supporter...of lifetime He's a kind of person who always strives for the wellbeing of students academically and personally Not just he helped me with academics but taught a lot about life lessons......I'm glad to b a student of him..and ll b glad to work under him always....
Dr. Prashant Madan Mohan is an inspiring orthopaedic surgeon. The passion he has for his work and teaching is amazing. I did my internship in the unit under him. His positivity is infectious. He has given me the motivation I needed to take the next step toward my dream of becoming an orthopaedic surgeon. I am sure he will keep motivating and inspiring many students through his books.
Such an amazing teacher who puts behind a lot of efforts for guiding young orthopaedicians in different examinations. His previous books on passing Theory and practical examinations were such success for helping many to pass their Examinations. This book for NEET SS and FNB is the most comprehensive and yet concise compilation of orthopaedic mcqs for postgarduates. I would like to congratulate Dr Prashanth for creating such book. Best wishes sir.
During my residency days as a MS student, I trained extensively under Dr. Prashant. It is truly an inestimable experience to have worked under such a skilled clinician and an accomplished surgeon. Dr. Prashant has always taken an extremely keen interest in instilling knowledge amongst his juniors in a very selfless manner. He's helped a variety of aspiring undergraduate and postgraduate students to reach their goals. This has been made possible through his Teaching courses, academic study material and his various study groups on platforms such as WhatsApp, Telegram and Facebook. Thank you sir.
158 reviews for
DNB MS Orthopaedics Solved Question Papers Course v23