DNB December Final Theory Exam dates Announced! Register with mentorexam.com and top your exams!
Applications invited for DNB/DrNB Final Theory Examination
December 2022 – Regarding
National Board of Examinations in Medical Sciences (NBEMS) shall conduct the
DNB/DrNB Final Theory Examination of December 2022 on 21st, 22nd, 23rd and 24th
December 2022 at various examination centers across the country
Please refer to the Information Bulletin at NBEMS website https://natboard.edu.in
(29th October 2022 onwards) for eligibility criteria, fee structure, scheme of
examination and other details.
Application form for DNB/DrNB Final Examinations – December 2022 can be
submitted only online at https://natboard.edu.in from 29th October 2022 (3 PM
onwards) to 18th November 2022 (Till 11:55 PM)
Important Dates:
Availability of the Information Bulletin 29 October 2022 onwards
Online Submission of the
Application Form – 29 October 2022 (3 PM Onwards) to 18 November 2022 (Till 11:55 PM)
Date of Examination – 21, 22, 23 and 24 December 2022
Pass you DNB Theory exams easily! Register now with tailored courses for DNB Theory and practical exams, visit mentorexam.com!
✔Largest Solved Question banks
✔Latest Recalls
✔Expert Mentor guidance
✔OSCE Stations
✔Find all answers in one place
✔All answers from authentic sources with references
✔Easy to revise Easy to reciprocate and write in the exam
✔Attain insight to the art of OSCE questions asked in DNB practical exam.
For all DNB MD MS Courses click here
For NEET-SS FET FNB Courses Click here
For Queries – https://wa.me/917200420117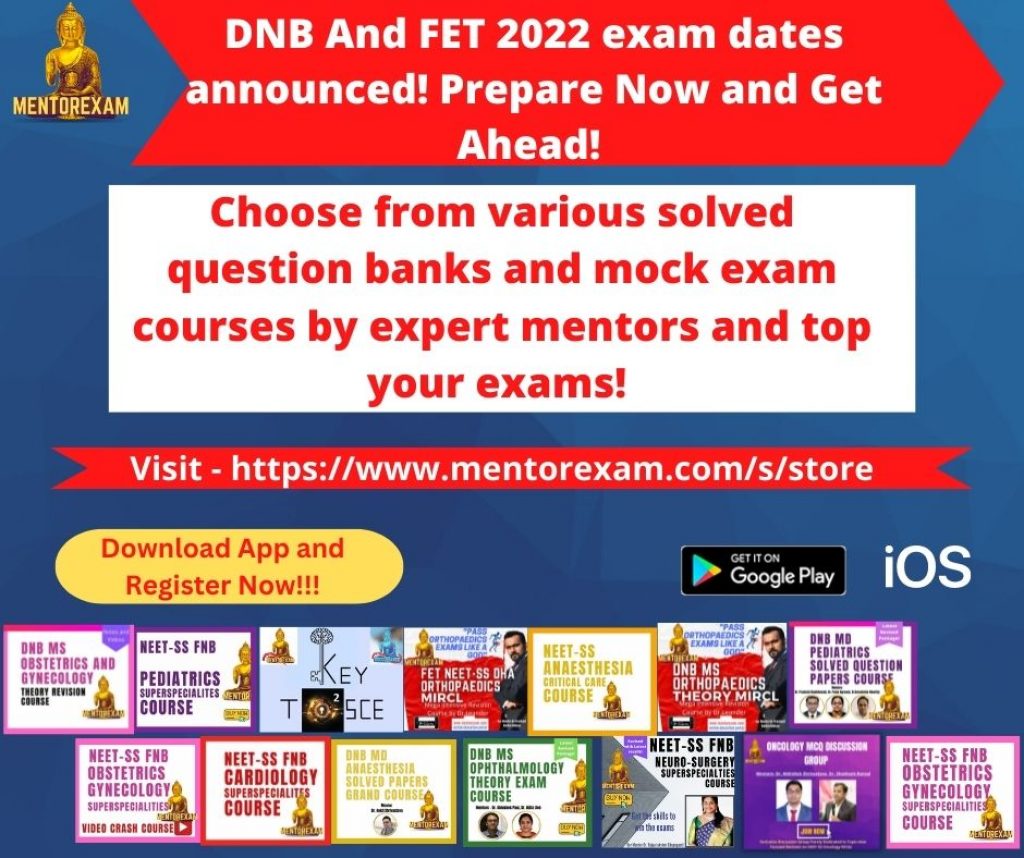 Exam updates and learning on Telegram https://t.me/mentorexamships
For all DNB exam study material solved question banks and osces – https://www.mentorexam.com/s/store/courses/DNB%20MS%20MD%20Final%20Exam%20Courses
For all FET FNB Exam study material , solved recall mcqs and mocks– https://www.mentorexam.com/s/store/courses/NEET-SS%20FNB%20Mch%20DM%20Courses
For all courses – https://www.mentorexam.com/s/store
Download Mentorexam App for android/iOS and register for free!
Android App- https://play.google.com/store/apps/details?id=com.mentorexam.courses&hl=en_IN&gl=US
iOS – https://apps.apple.com/us/app/mentor-exam/id1572870557
Follow us on FB and join our groups for free discussions – https://www.facebook.com/Mentorexam
For queries – https://wa.me/917200420117
For free updates register –https://shop.mentorexam.com/signup